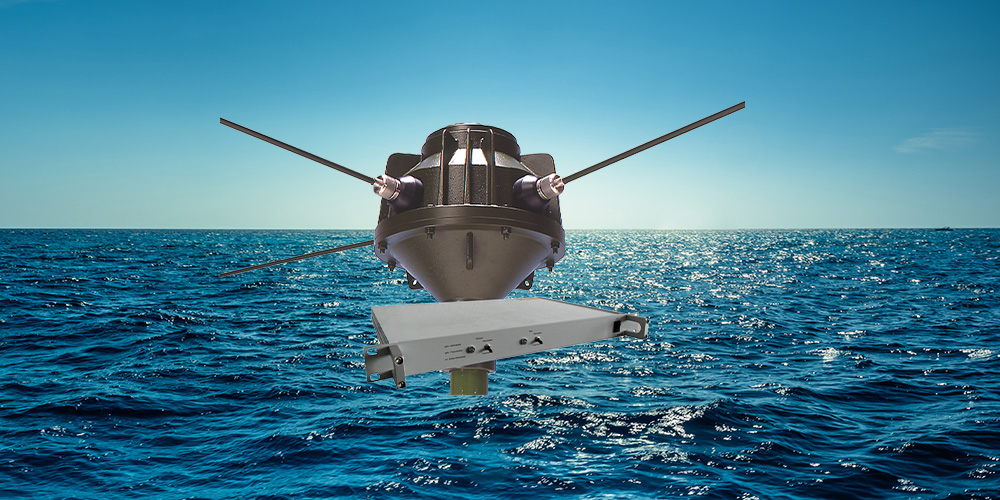 HD 1 A/P – HA 1 A/P
This antenna is an active/passive receiving antenna for reception in the shortwave range (1.5 - 30 MHz). It is intended for use in installations on land or on-board naval vessels It consists of a horizontally polarized dipole and a horizontally polarized monopole. Both antennas can be operated either in active mode (optimal sensitivity) or in passive mode (optimal interference immunity).
The antenna amplifier is installed in a watertight and seawater resistant cast aluminum alloy housing, the antenna head. The antenna rods are made of glass fiber reinforced plastic fitted with stainless steel screw connections. The dipole and the monopole are fed separately.
The cable connectors are fitted to the bottom side of the antenna head's bottom flange. It is protected against the environment by a trumpet shaped mounting support (the funnel) which is mounted to the bottom flange of the antenna head. The opposite end of the funnel fits the size of 2" supporting pipes.
Regarding the robust construction and the use of weatherproof materials our active antennas can be used under extreme environmental conditions.
The operating voltage for the antenna is supplied through the inner conductor of the coaxial cable from the power supply and control unit AAN 300. On failure of power supply, the receiving antenna is automatically switched to passive mode, so that the receiving operation further maintained.
Customer requirements can be considered on request.
For further information download the product information or contact us at
aas.tech GmH & Co. KG
Gutenbergring 53
22848 Norderstedt
Germany

Tel. +49 40 8836 42 200
E-Mail This email address is being protected from spambots. You need JavaScript enabled to view it.
| | |
| --- | --- |
| Downloads |   |
| Product Information EN | |